Interface, Inc. is Listed in the Ethibel Sustainability Index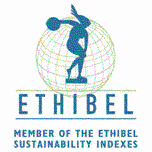 ATLANTA, August 24 -- Interface, Inc. (Nasdaq: IFSIA), a worldwide interiors products and services company, has been listed among the 191 companies that comprise the Ethibel Sustainability Index (ESI). The ESI contains shares of companies that have met the Ethibel sustainability criteria for good sustainable management (social, environmental and economic).
Ethibel is an organization that relies on a long-standing experience in the field of Corporate Social Responsibility and Socially Responsible Investing. The Ethibel Label is the only European quality label that assures customers of the ethical value of funds. Clients of the ESI include retail and institutional investors as well as governmental bodies: Bank Delen, Dexia, Etica SGR, Fortis Bank, KBC, Mercator Bank, Petercam, VanMoer Santerre, the Flemish government and EU institutions like DG Employment and Social Affairs.
Interface, Inc. is a recognized leader in the worldwide interiors market, offering floorcoverings and fabrics. The Company is committed to the goal of sustainability and doing business in ways that minimize the impact on the environment while enhancing shareholder value. The Company is the world's largest manufacturer of modular carpet under the Interface, Heuga, Bentley and Prince Street brands, and, through its Bentley Mills and Prince Street brands, enjoys a leading position in the high quality, designer-oriented segment of the broadloom carpet market. The Company is a leading producer of interior fabrics and upholstery products, which it markets under the Guilford of Maine, Toltec, Intek, Chatham and Camborne brands. The Company provides specialized carpet replacement, installation, maintenance and reclamation services through its Re:Source Americas service network. In addition, the Company provides specialized fabric services through its TekSolutions business and produces InterCell brand raised/access flooring systems.
Contact: Daniel T. Hendrix,
President and Chief Executive Officer
Patrick C. Lynch,
Chief Financial Officer
770-437-6800